15 A-shaped chicken coops from which birds will be delighted
Crafts, Architecture, Decor, Workshop, Garden, Cheap
A chicken coop doesn't have to be an unsightly enclosed space that destroys the look of a garden or vegetable garden, so it's time to design a modern chicken coop for your birds. The options are endless! But today we want to introduce you to15 modern A-shaped chicken coops.
If you are the one who loves fresh eggs and homegrown chicken, then you should invest strength in creating a strong chicken coop. All of these15 portable chicken coopsare specially made for the vegetable garden or garden. Protected dream house for birds.
INTERESTING:
INTERESTING:
INTERESTING:
INTERESTING:
INTERESTING:
A-shapedstructures create a stronger structure and are more stable during strong winds than square ones.Some of these buildings are mobile, which allows you to move the dwelling around the site, while others are spacious enough for the birds to feel comfortable.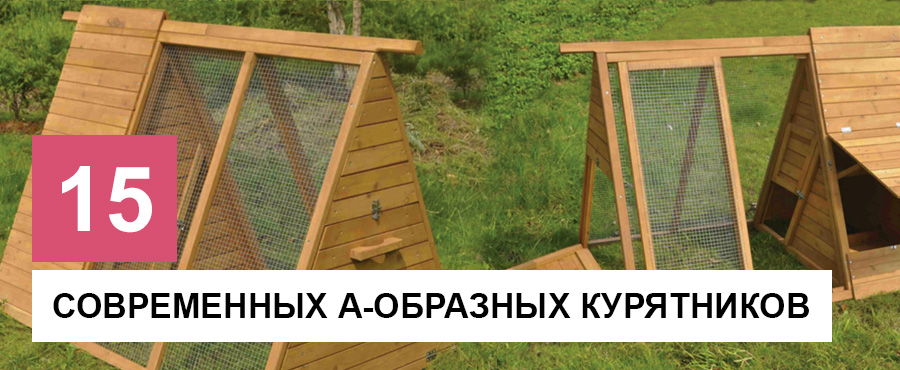 Security.
Chick safety is paramount. The purpose of the coop is to protect the chickens from bad weather - heat, cold, wind, rain and predators.
Chickens do not pay attention to the potential danger. It is an easy prey for predators, even when they are awake. DurableA-shapeddesign ensures complete safety. She will save from any predators, even in urban areas, stray dogs or cats can harm your feathered. Choose the coop option that suits you the most out of the 15 proposed by us.
Measure seven times, cut once.
Consider the 4 most important factors when choosing a place for your chicken coop:
Shadow and sunshine.Feathered need sunshine all day, but they also need shade.
Natural ventilation.Good wind flow so that the air does not stagnate, but avoid places with strong wind. Usually a chicken coop is placed under a tree.
Easy access.As a rule, you will have to visit your birds twice a day.
Noise and smell.Do not place the coop close to your home or close to your neighbors.
Related News
Valentines in the shape of a heart for the Day of All Lovers
Lion drawing for kids
How to glue plastic securely
Hair Clip Wildflowers
Sweet Turtle
Unusual pillows in the style of the hatch cover