Clay Medallion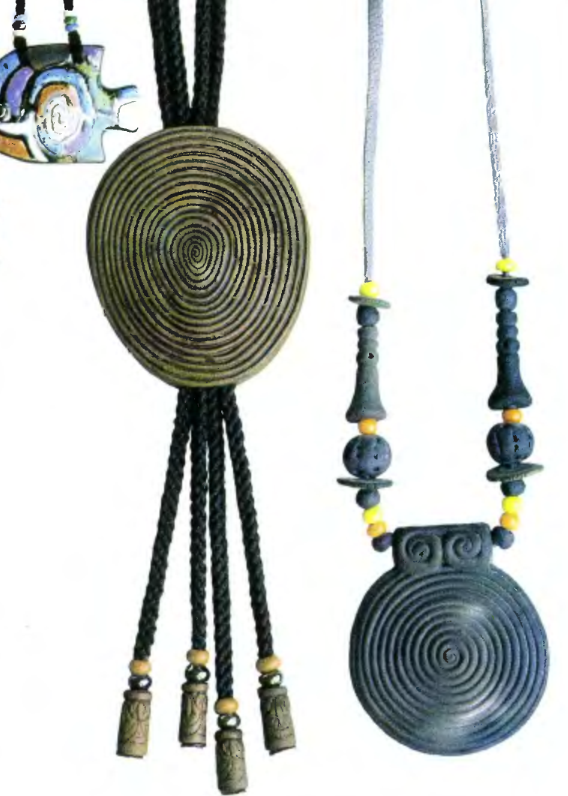 You will need:
pottery clay;

gypsum;

plasticine;

cardboard or large round button

a leather or synthetic lace.
Don't know how to spend an unforgettable vacation? On the sitemeridian-express.ruyou will find a lot of information about tours to South America. Rio de Janeiro, Buenos Aires and Santiago are only a small part of what you see during your tour of South America.
Take a button or cut a circle from the cardboard. Slap on the circle of clay, so that the surface turned out convex.
Roll out thin plastic flagella out of plasticine and put them together in one long bundle. Paddle the tourniquet on a circle in a spiral, laying it from the center.
Roll up the top element in the form of a meander. The thickness of this element should be sufficient for the hole for the lace.
Glue the medapion to a piece of glass. Surround it with a ring of cardboard at a distance of 2 cm, tightly sticking it with clay to the glass from the outside (Fig. A).
Dissolve medical or sculptor plaster in a large container (for example, a bowl) to the consistency of liquid sour cream. Water should be cold. With a tablespoon, remove the bubbles and, with it, carefully pour the plaster into the mold (in order for the bubbles to disappear, knock the mold on the table). 10 minutes after the gypsum has frozen and warmed, the mold can be removed from the glass. If the mold remains plasticine, peel it off with another (large) piece of plasticine. Dry the form on the battery.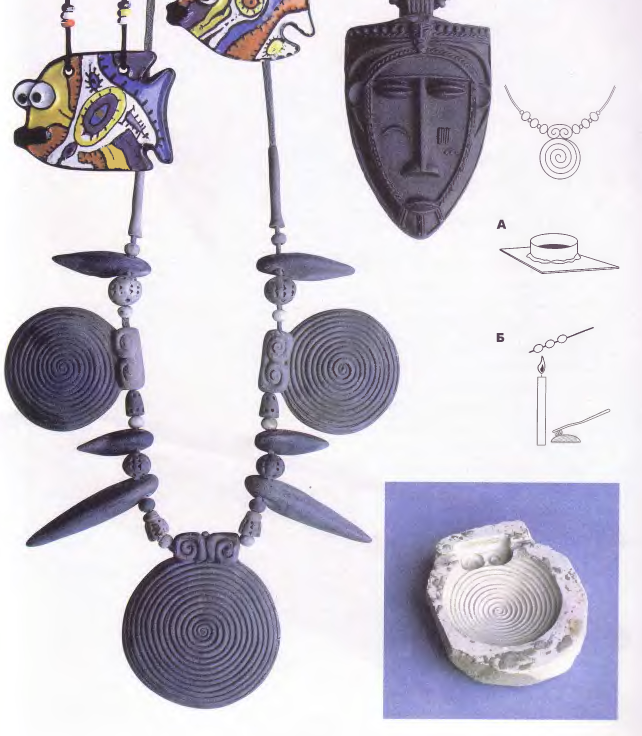 Take a piece of soft pottery clay (clay can be purchased at the plant for applied art, a brick or tile factory, in special stores) and hammer it into a mold, and then pull it out with another piece of clay, squeezing from the cut of the mold. Gently make a hole for the lace with a spoke. Put to dry.
Roll balls out of clay, pierce them with a knitting needle. Put on beads any pattern with improvised means (knitting needles, scissors, details of the old alarm clock).
Firing is performed in a muffle furnace at (950–1100 ° C, depending on the type of clay. The beads are fired in the same way as the medallion.
Blot beads and medallion over candle (thread beads on the needle) and old toothbrush, rub the surface with melted wax (fig. B).
Related News
Provence-style kitchen design ideas
Copper Deposition on Non-Metallic Objects
Simple lanterns (candlesticks) for decoration
Painting in the technique of quilling Forest Fairy
Making a postcard by February 23
Easter bouquet
Foam varnish for painting concrete floor