How to choose a wok pan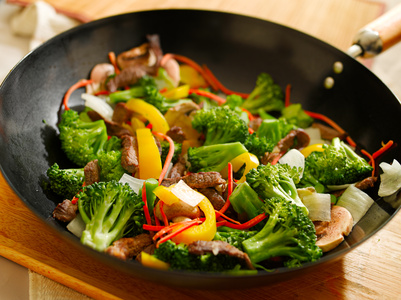 Increasingly, women are experimenting at the stove and cooking savory and healthy Chinese dishes. For their preparation, not only oriental seasonings are necessary, but also a special wok pan, which in China replaces a whole arsenal of dishes. Experienced hostesses in Ukraine appreciated the deep frying pans, resembling a pot. They can also prepare dishes of Russian and Ukrainian cuisine and preserve the useful properties of the products.
Can I do without a WOK frying pan?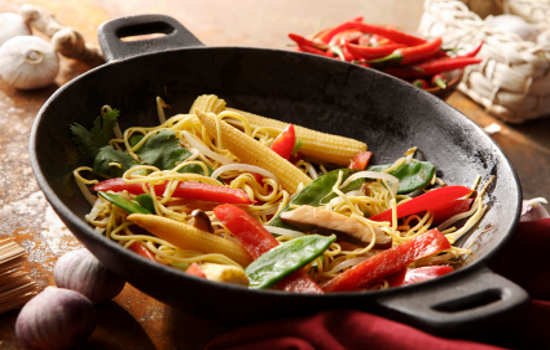 Food is cooked quickly with a minimum amount of fat. The frying time is shortened several times. The faster meat, vegetables or fish reach readiness, the more attractive their appearance, the more vitamins are saved, the food is richer and tastier. Due to the conical shape of the pan, the fried pieces are easily picked up and moved upward, while the unprepared ones are placed on the bottom, where the maximum temperature is maintained.The wok pan is evenly warmed up, and the products do not pour out of it when mixed.
On a universal frying pan it is convenient to stew and boil for a couple. If you are indifferent to the usefulness of food, then you can do without miracle pans. But if you care about the variety and quality of dishes, you want to save your time, then the wok pan will become an indispensable assistant. Guest housewives and catering workers about WOK only positive. Everyone who recently began to use this dish is perplexed, as before they could cook without it. You just need to choose the right product, because of its quality depends on the taste and aroma of food.
Some useful tips on choosing a wok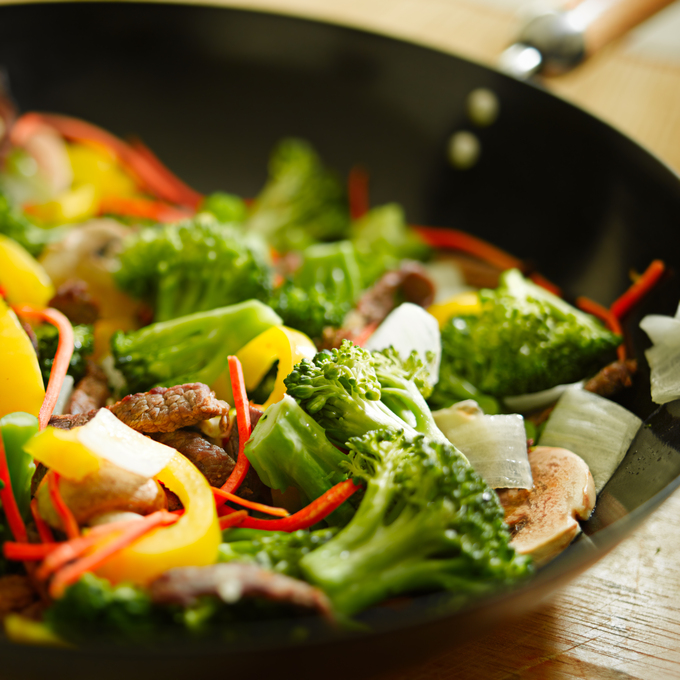 Experts advise to buy a steel or cast-iron Chinese griddle.
• WOK made of stainless steel
Heats up quickly, durable, and relatively light. Food does not react with the material and retains its beneficial properties. But the products require careful maintenance and the use of special cleaning products.
• Pig-iron wok pan
It has a high heat capacity and non-stick properties. For heating, you can use a small fire.Heat is distributed evenly and persists for a long time. If rust appears on the dishes, it can be removed by calcining. Such pans are recommended by experienced chefs. The only drawback is a lot of weight.
When choosing a product, pay attention to the shape of the bottom. For an electric stove, you have to buy a FOC with a flat bottom. For a gas stove any model is suitable. For home use, give preference to pans with a diameter of 30 cm.
Pens are an important aspect. It is desirable that it does not heat up and be securely fixed. It is convenient to hold the dishes with cast ring-shaped handles.
Not bad if the kit sells a convex cap with a hole for the release of steam.
The price of a good WOK frying pan is relatively high. But you can save and buy a frying pan of the Ukrainian manufacturer. With an affordable price, it has excellent quality and will last for many years. The site p-ostrov.com.ua sells comfortable wok made of cast iron that has undergone special heat treatment. Such dishes will be a good helper in the kitchen.
Buy a WOK frying pan and cook easily and with pleasure.
Related News
Christmas tree toy from a conventional light bulb
Origami Elephant
Middle age crisis
Box for wedding glasses
Criteria for choosing leather corner sofas
Female logic
DIY do-it-yourself panel
Needle Hat