How to make a carnation from paper with your own hands
Carnations are beautiful ornamental flowers that delight our eyes in parks, squares and on home lawns. There are many different varieties of this flower, but only three can be called popular: large, mini and dwarf.
In this master class I will show a few options - how to make carnations from paper with your own hands with step-by-step photos and video. Carnations are most often presented as crafts for the Victory Day to veterans, as well as on birthdays to grandparents.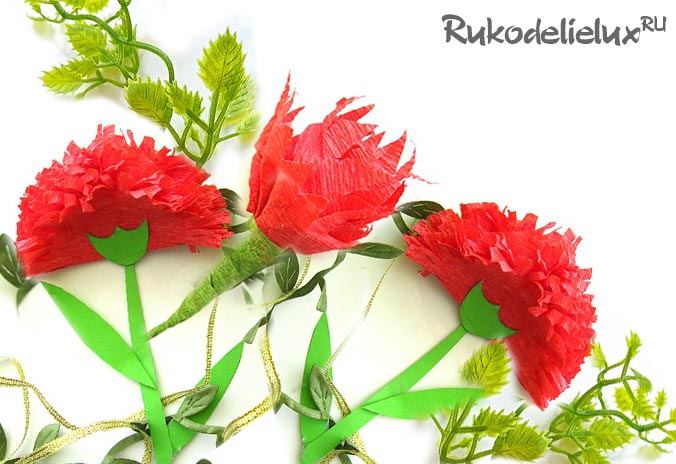 Also, this flower will look great on a volume application, made with your own hands for mom on some holiday, for dad on Defender of the Fatherland Day, for grandfather by May 9. After you see the raft of your creativity, you will definitely find a worthy use for it.
Content:
Paper Stud - 5 Options
01. Corrugated Paper Clove Flower
What a summer without flowers? So, we take the corrugated paper safely, which can easily be replaced with plain cloths. From such a light and thin material without problems, we get a delicate floret with bright red petals.
In addition to corrugated paper, a half-board of green will come to the rescue. Without it, you can not do, because you need to add a stem, flower-plant and leaves to the bud.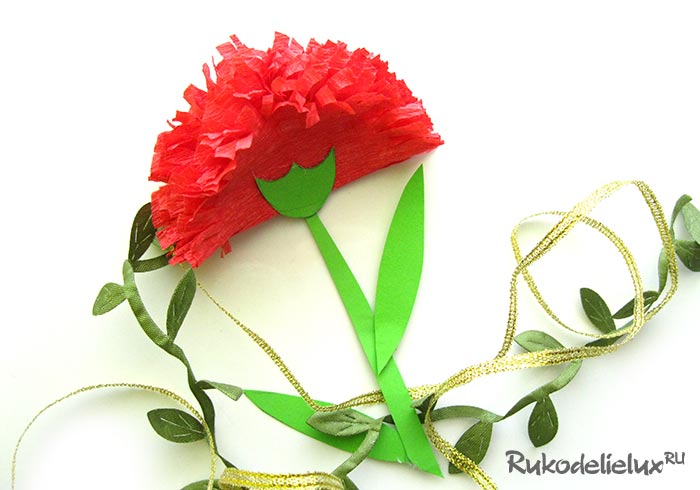 Required Materials:
red corrugated paper;
green half board;
scissors;
pencil;
glue.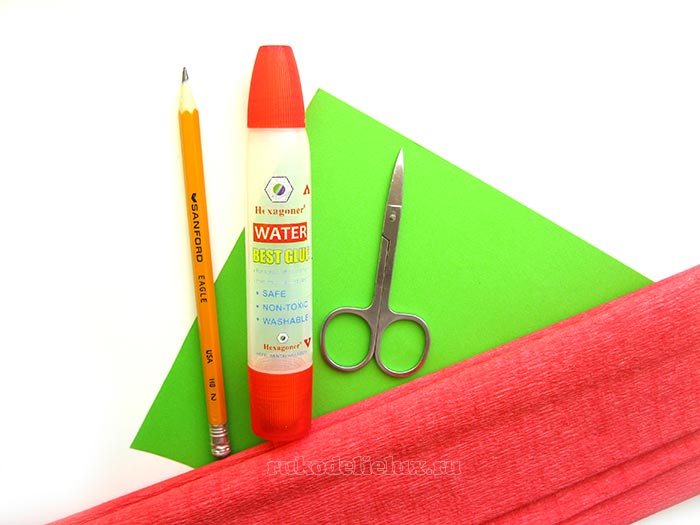 Manufacturing steps:
1. On a green half board we draw a smooth circle. Cut along the contour and get a pattern that should be transferred to red corrugated paper. To do this, draw a pencil around the outline of the template five or six times.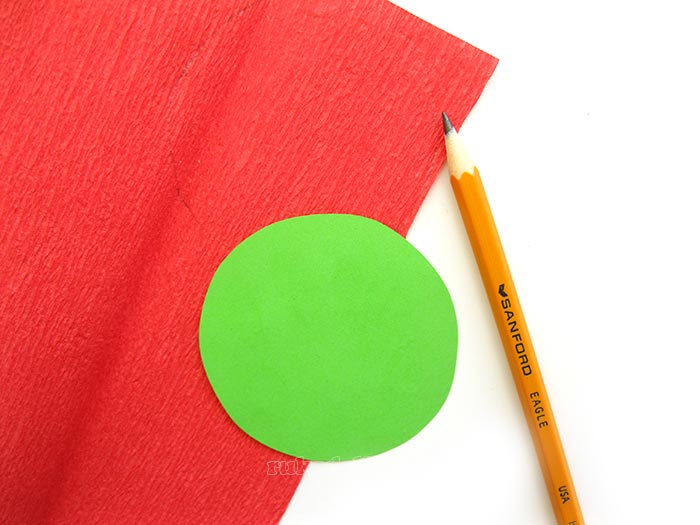 2. Cut out all the details on the contour. We get the finished elements to create petals.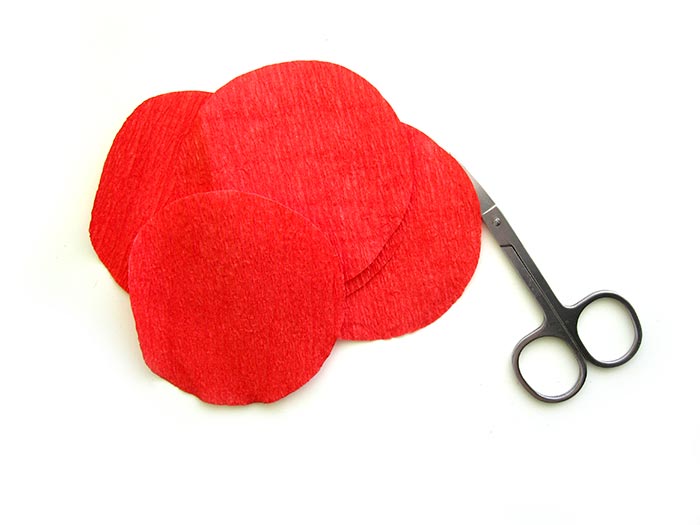 3. We put all the circles of corrugated paper in a pile.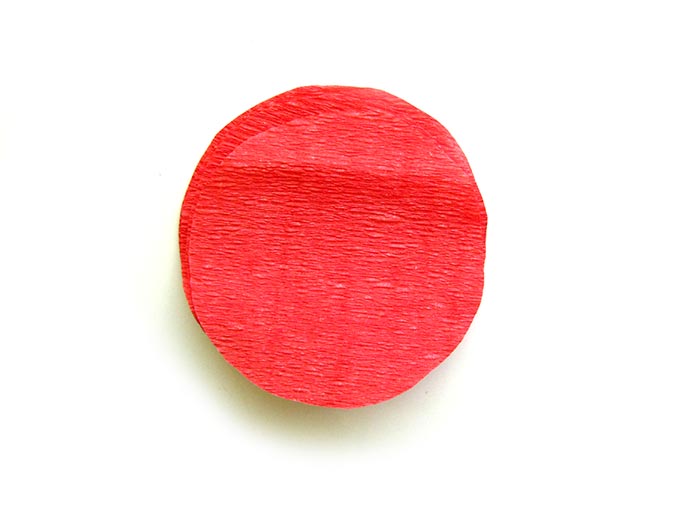 4. Bend the bottom part up in half.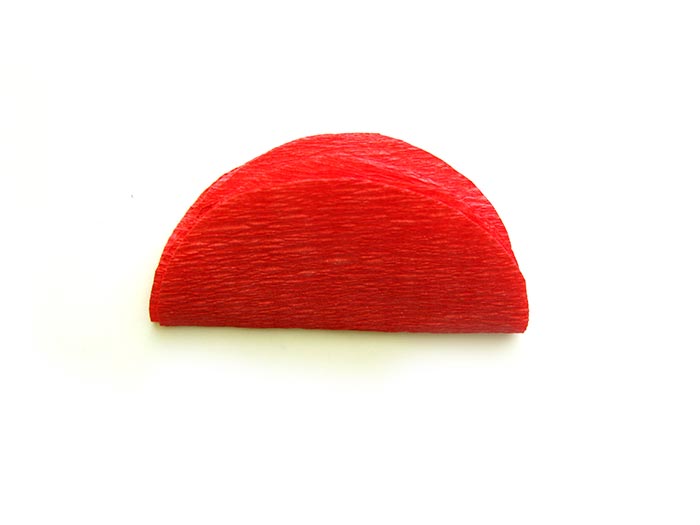 5. Then again, all the paper elements should be bent in half to either side.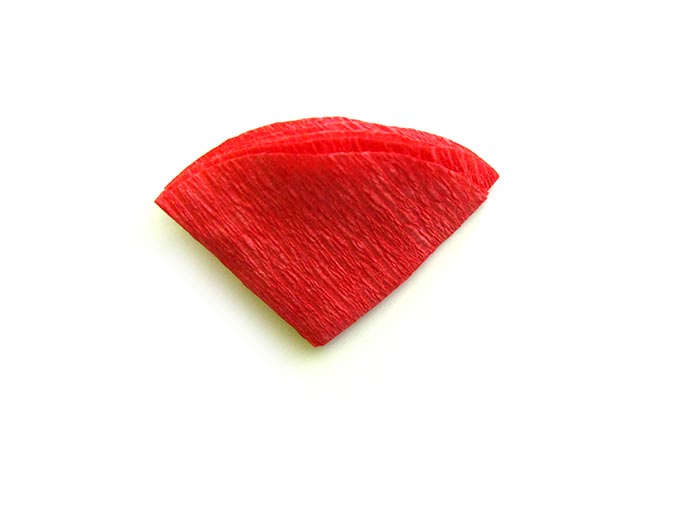 6. Scissors make a lot of cuts on the upper round edge.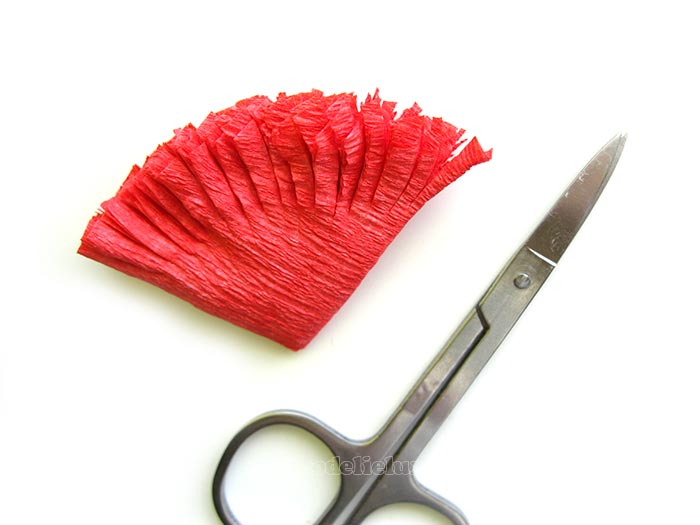 7. Open the billet once and get a clove bud.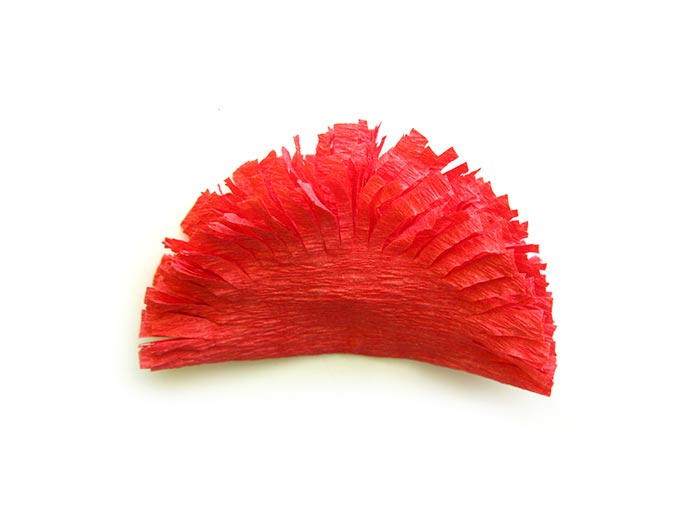 8. Next, you need to take a green half-cardboard, from which we cut the stem, leaves and receptacle.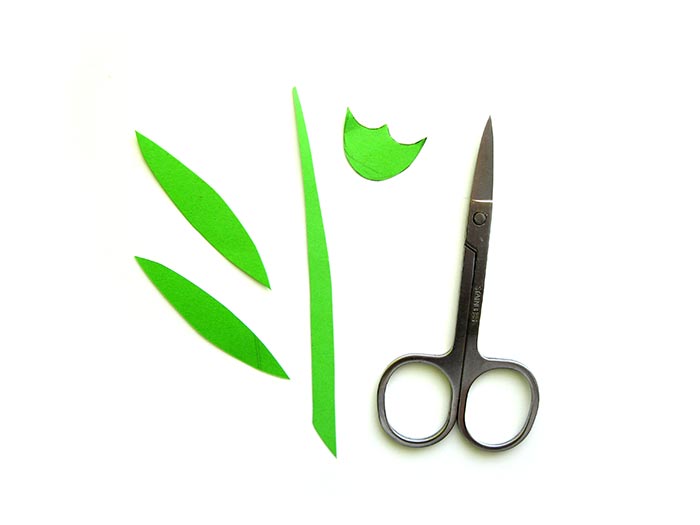 9. Glue the receptacle to the center of the bud of the red carnation. Next, attach the stem, and to it - two leaves.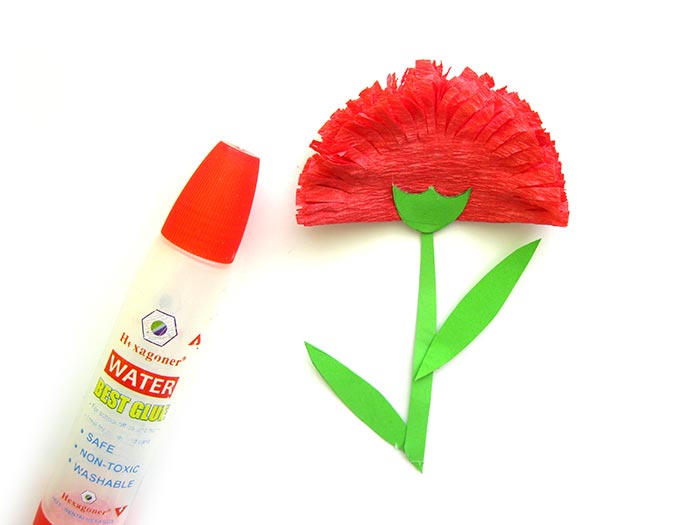 10. All layers of corrugated paper in the bud of the carnation should be gently straightened to obtain lush petals.
11. So a cute flower of a carnation of corrugated paper is ready, where half-cardboard was used as an addition.
Such a flower has a flat appearance, so it is ideal for creating a kind of "zest" on the front of the postcard.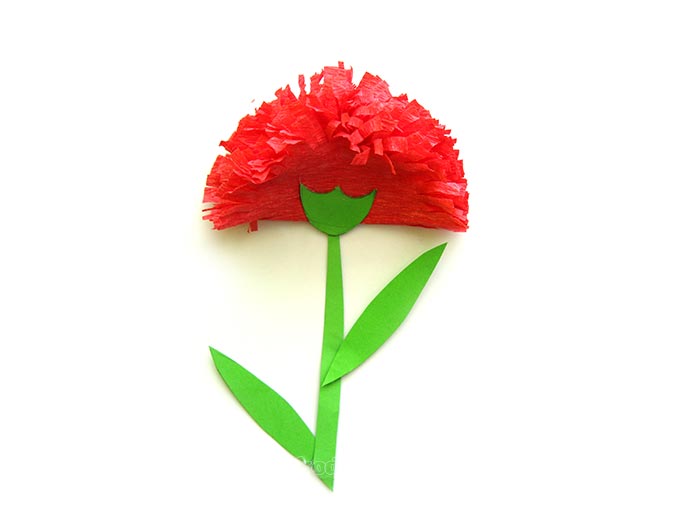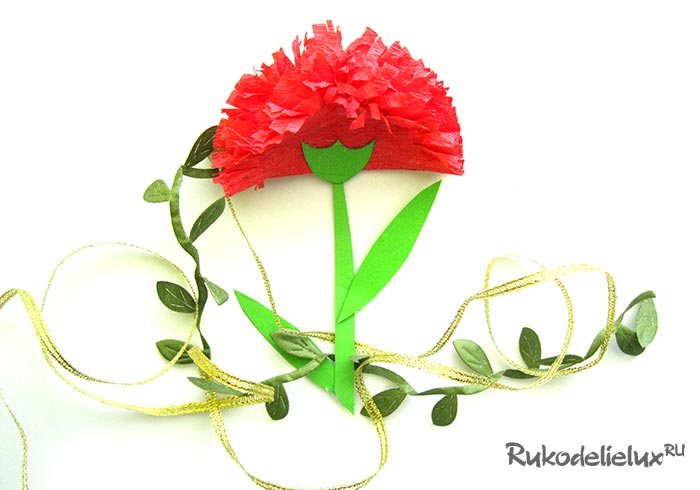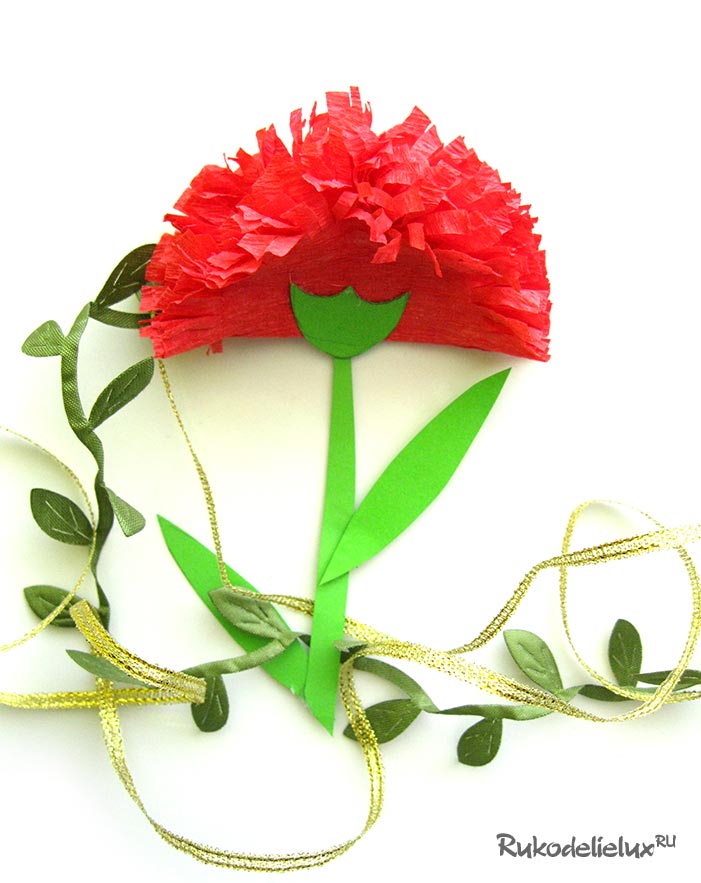 02. Red Carnation DIY
This variety of carnations can be immediately distinguished from others due to the fact that they have only one large flower on the stem. This is what we learn to do from the available material.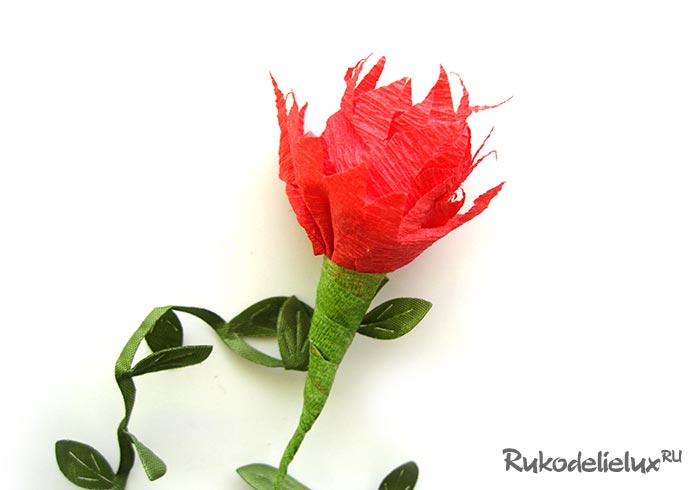 Materials needed for cloves:
red corrugated paper;
tape tape
wire;
scissors;
glue;
pencil;
ruler.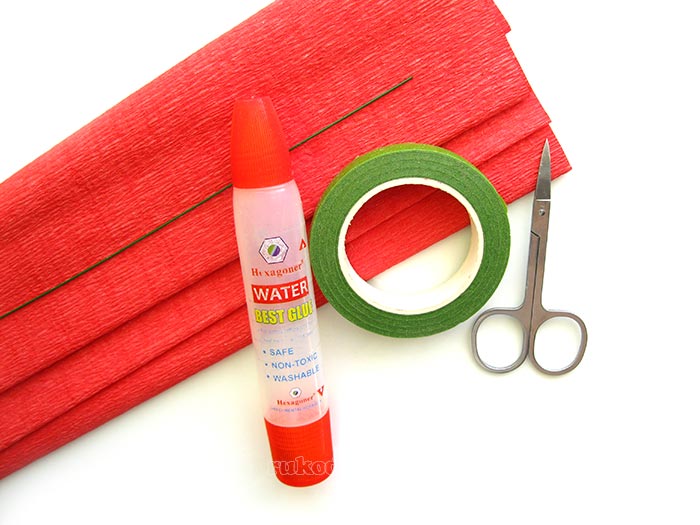 Production steps:
1. To create a bud of carnation, you need to take a red corrugated paper. Also, this material can be easily replaced with crepe paper or plain plain cloths.
We measure off dimensions of 20 x 7 cm on a strip. Cut out and get a long strip. Bend the upper part down 2 cm.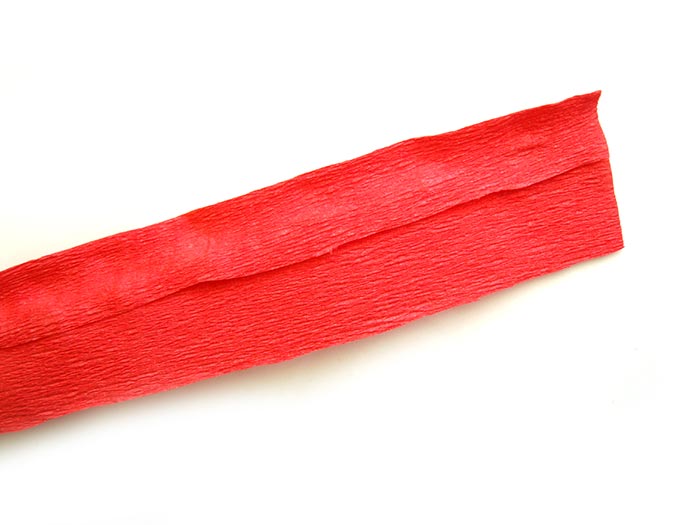 2. Cut off a small piece of floristic wire. Attach it one end to the right side of the paper strip. You can immediately prepare a few blanks in the form of paper strips to immediately get a whole bunch of red carnations.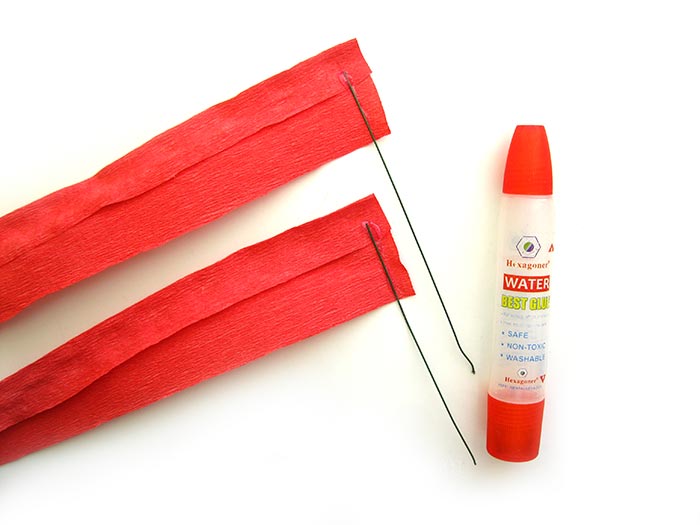 3. Now we will make small teeth along the entire top edge with small scissors with a sharp end.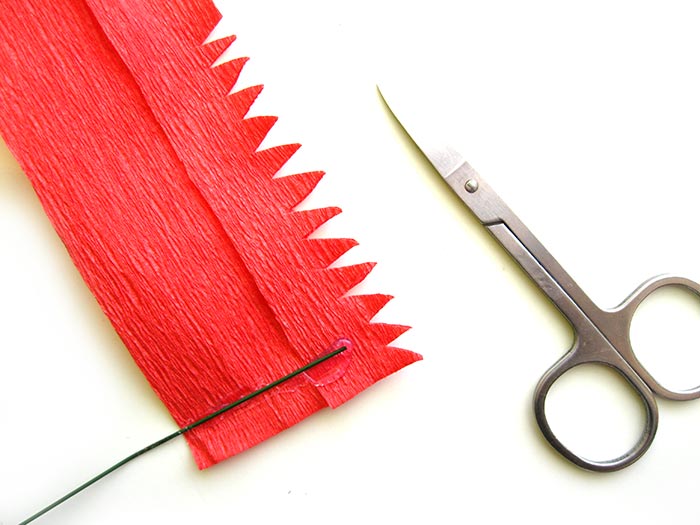 4. Begin to twist the red strip around the wire. We create several folds to get a volumetric flower.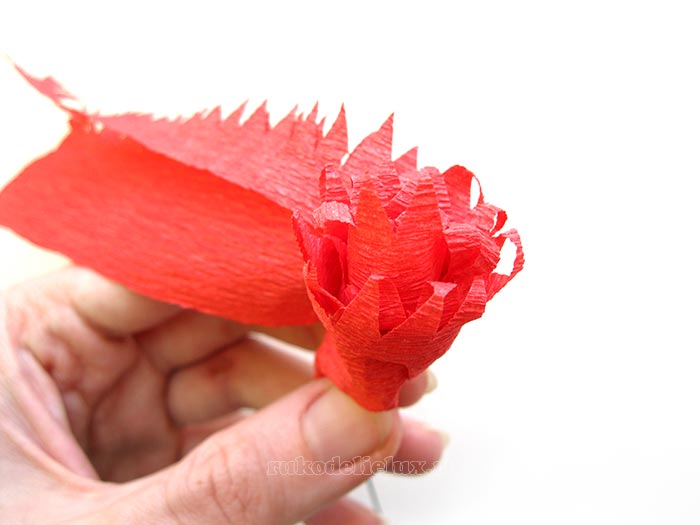 5. We glue the end of the corrugated paper to the wire. As a result, we get a lush bud of carnation with small teeth.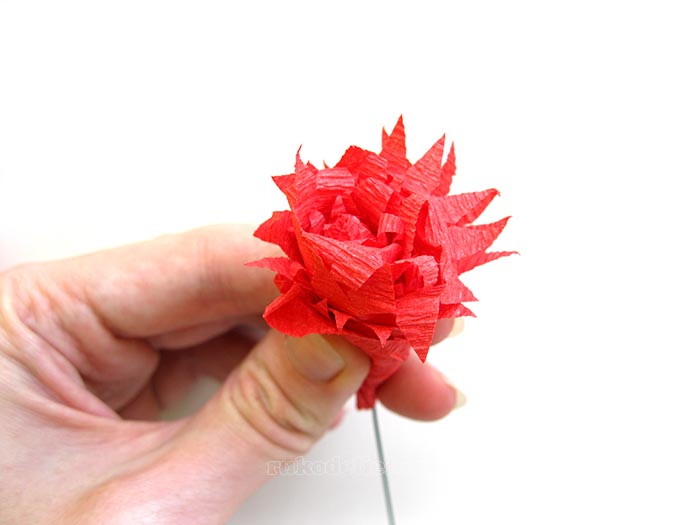 6. Create a receptacle at the bottom of the crafts with a green tape that should be tightly wrapped around the bottom of the red corrugated tape. Next, go to the thin wire.
To give it the necessary texture and color, you should grab the tape again. She wrapped tightly the entire length of the wire. Also, if you wish, you can cut out large leaves from the stem of a flower.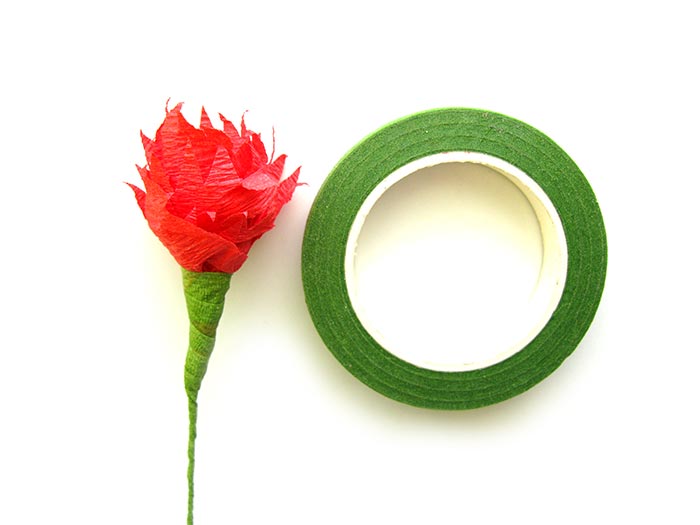 7. As a result, we get a cute flower of carnation of corrugated paper in a short period of time. Create in the same way a couple more of these flowers and get a cute bunch for any holiday.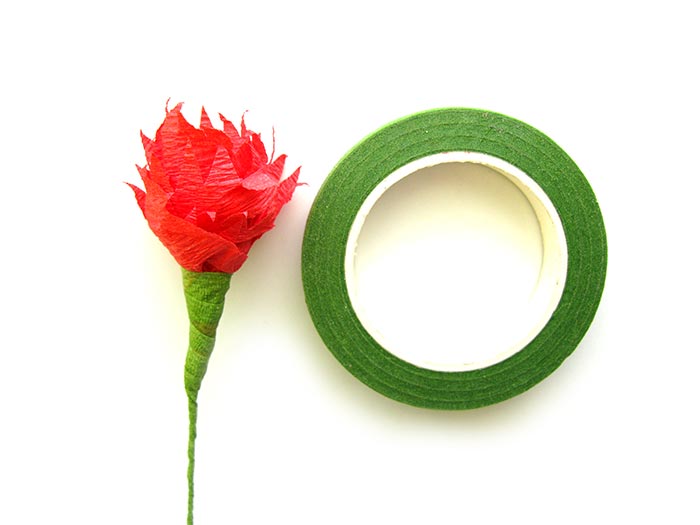 These flowers are artificial, so they do not need water and meticulous care. So they will decorate the interior of the room for more than one week and even more than one month!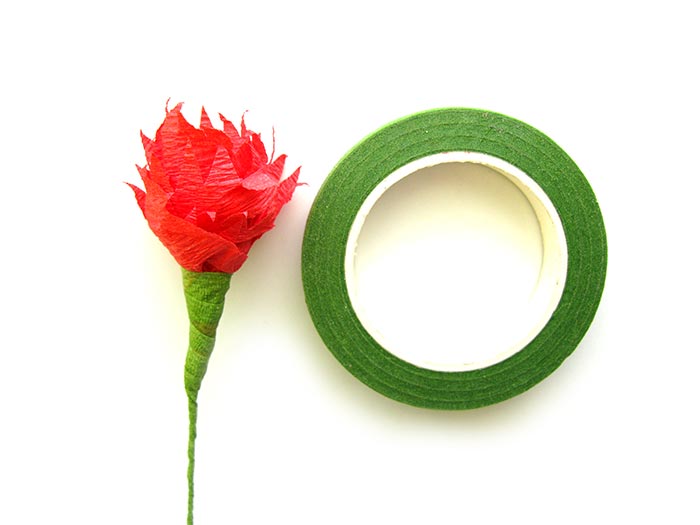 03. Easy way to create a carnation of corrugated paper
If you want to know the easiest way to create a bud blossom of corrugated paper, this article is exactly what you need. The resulting flower will be bright if you take suitable paper, air, if you use enough layers, small or large at your request. In fact, there is nothing difficult in such work.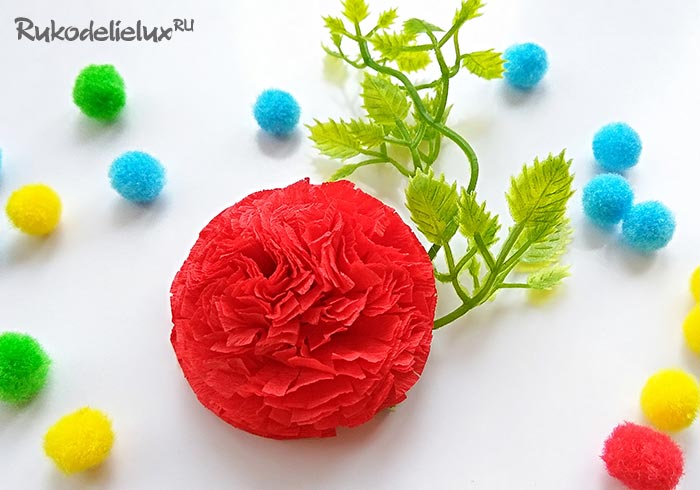 To learn how to make a lush flower, prepare these materials:
corrugated paper - bright or white, pale pink;
scissors;
cardboard circle pattern;
fine wire or thread with a needle.
How to make a nail with your own hands in stages
Prepare a roll of corrugated paper of minimum density. In the process, you need to perform thin layers, crush them, so it is the soft paper that fits better.Cut the strips, adjusting the width depending on which size bud you want to make. Cutting the desired strip, you can move along or across the roll, in this case it does not matter.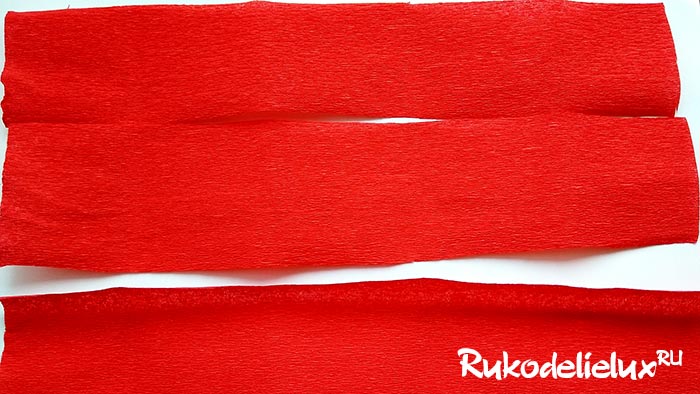 Fold one or more ribbons in a zigzag fashion, making it so that it is a square multi-layered blank. Our task is to study the easiest way to model a flower, so all layers will be processed immediately together and not separately. This saves time.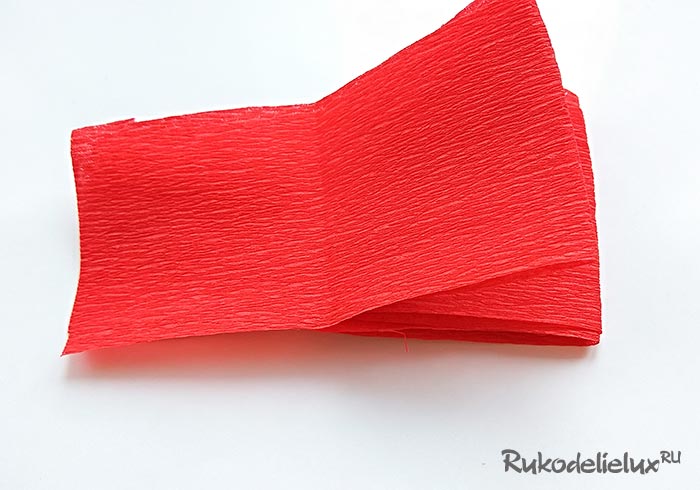 Hold the folded ribbon in this position, with a thin wire or needle, make 2 holes clearly in the center. Thread the ends of the wire into the holes and twist or sew with threads.
Thus, you will fasten all layers at once. Glue in this case is also not needed. The fastening method is faster and more reliable.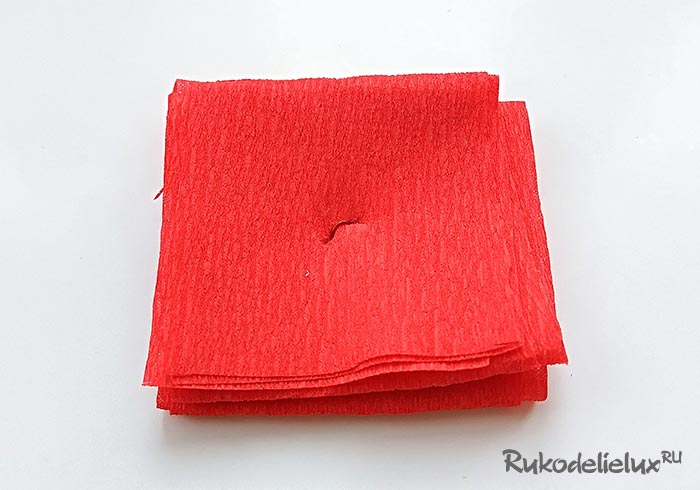 Attach a cardboard circle template on top, take it with a pencil or directly on the eye, cut a circle. Even if you get a little wrinkled edging, it will not cause any difficulties. It is this effect that should be achieved.
Make arbitrarily small incisions along the edge of each circle, advancing with scissors about 0.5 cm inside. It is also possible to make the outer edge wavy.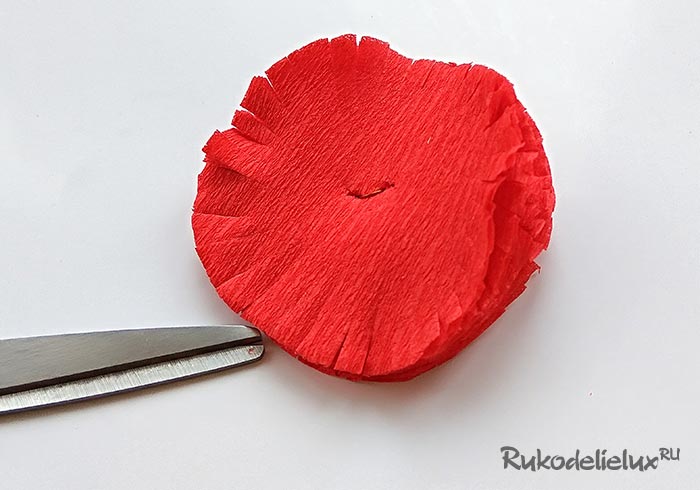 Now it remains to model the flower. Its pomp depends on the number of layers used. Starting from the top circle, start lifting each layer up and pushing with your fingers. Corrugated paper keeps its shape well, so after creasing it will not straighten. Collect the middle and continue this operation further.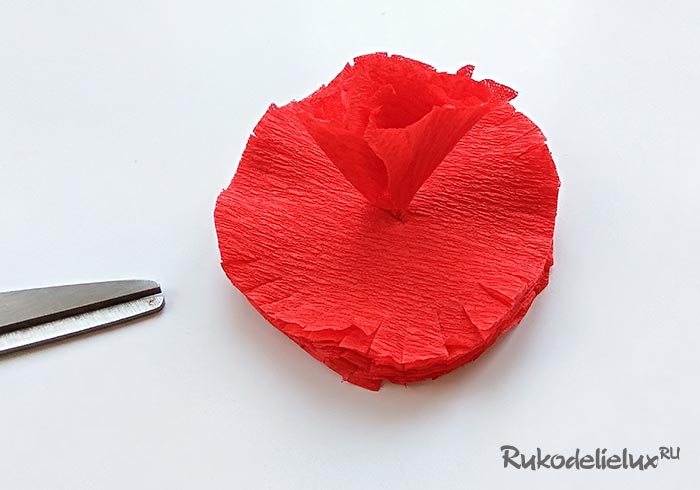 So gradually process all layers. Raise one circle up, press down from all sides. The cuts around the circumference will provide a lighter and more believable design. After processing the last layer, you will see a weightless ball in front of you.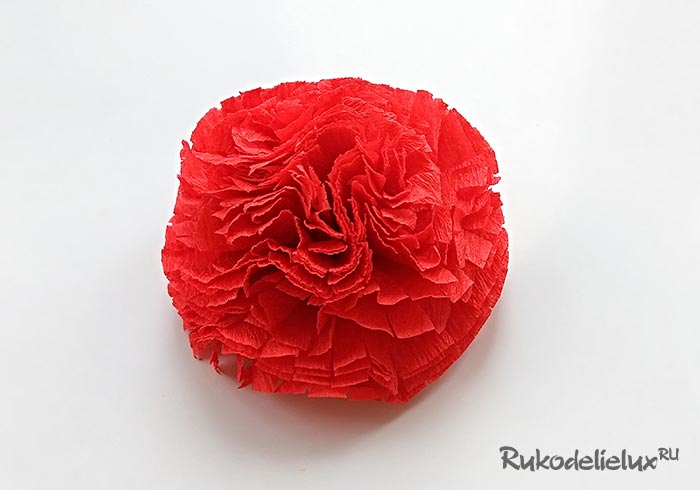 A beautiful carnation is ready. Her petals are gentle and trembling, as in a real flower. Make a stalk for it or stick it on paper.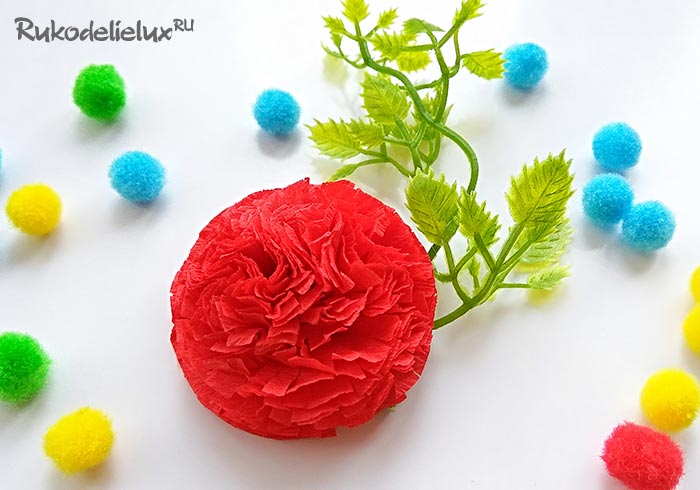 Related News
New Year's decoupage of a bottle of champagne
How to treat cytomegalovirus infection
How to learn telekinesis
How to draw a bee
How to tie a pullover
Vulcan Casino Slot Machines
Beautiful and original nail sliders
How to build a formwork for the foundation